Category:Consumables
From LEAP
PAL Consumables
Application Type
PAL Consumables
Application ID
PAL Consumables
Description
Smart PAL Consumables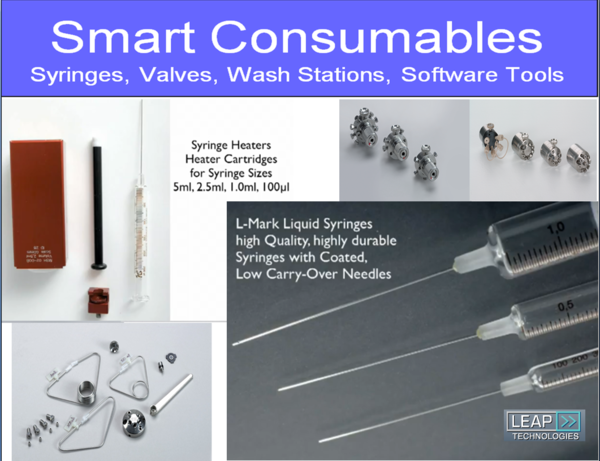 Proud to reliably provide CTC/LEAP autosampler parts and consumables. In 2010 LEAP Technologies spun the small parts and consumable products business into our Company. Our mission is to enhance and ease the day to day operations of many of the world's scientific community. We recognize their work is some of the most challenging and productive in the world. We are privileged to count many as our customers.
Simplify with LEAP

LEAP PAL Parts and Consumables LLC
Physical Address
LEAP PAL Parts and Consumables LLC
610 Jones Ferry Road, Suite 100
Carrboro, NC 27510

Remit To Address:
LEAP PAL Parts and Consumables LLC 3725 National Drive, Suite 230
Raleigh, NC 27612
Phone Contacts:
Tel 877-725-1007
Fax 888-589-9475
Cell 919-601-5445

Email Address:
lamar.jones@palparts.com



LEAP's PAL Parts


LEAP Small Parts Pricelist

Simplify All Things PAL Autosampler supplies for the GC and HPLC Systems with the CTC PAL Proven PAL knowledge and expertise. LEAP has the most experience with the PAL Wide Selection including customization possibilities Simplify with one purchase order
PAL Small Parts and Consumables • L-MARK and L-MARK Gold Syringes • CTC PAL small parts • VALCO Valves, Rotors and Loops • LEAP Vials, Caps and Septa
Our customer's demand reliability and availability for the products complimenting their PAL usage. LEAP now offers the commonly used and consumable items. We also recognized the products must improve the value proposition that is the LEAP experience. We are confident you will find the products, the service and the prices exceed your demands. Our goal is offer each and every customer world-class service. The least expensive components, those used daily, are in many ways the most critical in the operation of the CTC PAL. LEAP understands this and has worked to design or test products ensuring performance and consistent results for your PAL use. Simplify your work by selecting LEAP as your single source for "All Things PAL".

LEAP L-MARK Syringes
The L-MARK was created in 2004 and has been developed as a complete line of syringes that mitigate many of the problems associated with more traditional syringe products. This syringe was the first of its kind designed with a plunger guide to help match the plunger life with that of many high throughput labs that run thousands of samples overnight. L-MARK offers two choices of either a polyethylene or a Teflon material plunger tip type. The plunger itself is manufactured with titanium for added longevity. The needle setting is seated in the barrel for reduced exposure of adhesive to the samples picked up by the syringe. Our intent was to design a syringe that increased lab longevity by over four times. We believe the goal was accomplished. LEAP's L-MARK GOLD In September 2007 LEAP introduced the L-MARK coated needle syringe or better known as L-MARK GOLD. In many laboratories this syringe achieved the lowest carry-over results in the market. The syringe maintains all the performance results of the standard or non-coated needle L-MARK with the best carry-over performance in the market. Most popular sizes will ship same day.
CTC Brand Original Parts
LEAP was the original dealer and distributor of the CTC Analytics PAL auto-sampler. CTC, a Swiss based company, develops and manufactures laboratory front-end automation systems. LEAP proudly offers the CTC replacement parts as well as our industry leading exchange program.
VALCO Instruments-Valves, Rotors and Loops
Frequently referred to as VICI® which is an acronym for Valco Instruments Company Inc. VICI offers reliable, flawlessly machined valve and related products. LEAP has been distributing the VICI products relating to the PAL for over ten years. We can provide the expertise to properly operate these valuable precision components as well as maintain on hand inventory to reduce your lead times.
LEAP's Vials, Caps and Septa
LEAP recognized the importance of simplification with its customers. Combining frequently used vials and caps with existing orders not only improves your efficiencies, LEAP prices are some of the most competitive in the business. LEAP offers these products with the same world class service, most ship same day, as we do with all of the other product lines listed above.

LEAP's Pricing Strategy
Along with quality service and products and regardless of the economic climate, LEAP believes every customer deserves the best prices available. We believe that when you compare our prices you will note that ours are quite simply the best around. We don't stop there. We can tailor a program from our low list prices to drive your PAL usage costs down further.

GC
Choose CombiPAL and GC PAL liquid injection vials and caps for flexibility and high throughput. These micro and 2mL vials and caps are designed ot work seamlessly with CombiPAL and GC PAL magnetic needle guides and bar code readers. They also offer superior maneuverability so your most complex runs will proceed successfully.
CombiPAL and GC PAL liquid injection syringes: Recommended by CTC to sustain high reproducibility and accuracy A key feature of CTC's CombiPAL and GC PAL systems is the ability to inject a wide range of sample volumes – up to 500 uL for LVI applications. To help you take full advantage of this flexibility, LEAP offers a wide range of L-MARK syringes, from 1 uL to 500 uL, to accommodate fast and large volume injections. Each L-MARK is subjected to stringent quality control procedures to ensure it meets the highest level of precision and accuracy.
CTC recommends screw-top vials and caps for the tightest seal and the most reproducible headspace results. The precision thread vials and caps listed below are an excellent choice for dependability and ease of use. They are ideal for applications in the environmental, food and beverage, industrial hygiene, drug analysis and clinical chemistry industries.
LC
HTS and HTC PAL liquid injection vials and caps are designed to withstand the challenges of increased sample throughput HTS and HTC PAL high-throughput LC injection systems are configured to cope with today's high-throughput LC/MS demands. LEAP brings you a wide choice of well plates, vials and caps that are engineered to work with these injectors providing the flexibility you need. HTS and HTC PAL liquid injection L-MARK brand syringes last up to 10 times longer than standard syringes. Designed specifically for CTC autosamplers the L-MARK line of syringes feature zero carryover and long lasting plunger for applications that demand precision and productivity. Recommended for high-throughput applications. From biological samples to high pressure chromatography, you can trust your results to our HTS and HTC PAL liquid injection valves, rotors, loops and needle seals. Cheminert metal loops which feature tow 1/16 inch stainless steel nuts and two stainless steel ferrules Cheminert PEEK loops include two PEEK nuts and two PEEK ferrules
Ensure a lifetime of performance with these general CTC autosampler supplies- now available through LEAP LEAP offers a broad selection of CTC recommended sampling trays, well plates and sampling accessories-including high-throughput micro vial sample trays and 96-well or 384-well plates and closures. So now you can order your CTC supplies from LEAP along with all of your other accessories.
LEAP sells L-MARK and CTC X-Type Syringes at the best prices with product support and guaranteed deliveries. Less than 10 units are shipped same day. Consignment or zero inventory programs available.
---
LEAP provides automated workstation instrumentation solutions based on the LEAP CTC PAL X, Y, Z syringe only autosampler robot from LEAP Technologies. This extremely flexible, precise, and adaptable liquid handling robotic platform is available in a variety of lengths and options depending on the requirements of your sample preparation and injections for your UHPLC, LC or GC chromatography.LEAP offers full support and service for the PAL platform in addition to being able to write custom macros, cycles, and scheduling to your applications. Please contact LEAP Technologies on how we can help you get maximized throughput with flexible pipetting automation solutions.
---
Syringes for all needs
Specialty Syringes
Valves with inert surfaces and minimal dead volumes and spaces
Rotors
Wash stations for speed and low carry-over
Software that builds in wash routines
Disposable tips
---

LEAP Technologies provides fully automated sample processing workstation instrumentation solutions based on the LEAP CTC PAL X, Y, Z syringe only autosampler robot. This extremely flexible, precise, and adaptable liquid handling robotic platform is available in a variety of lengths and options depending on the requirements of your sample preparation and injections for your UHPLC, LC or GC chromatography. LEAP also offers process control systems and stand alone workstations. LEAP is an open, neutral resource for technical support of existing PAL. Keep your PAL in peak working order LEAP offers full support and service for the PAL platform with over 11 years of history with the PAL. LEAP can also write custom macros, cycles, and scheduling software for your specific applications. We're proud that LEAP is known as a productivity improver for laboratories including government labs in agencies such as FDA, USDA, EPA, FBI, Armed Forces, Homeland Security and others function more efficiently. Robotic sample prep equipment works well in government labs and challenges lab technicians to keep feeding those more samples. Analytical equipment such as chromatographs and mass spectrometers are expensive devices and also expensive to maintain. LEAP can help to keep them running and analyze samples around the clock. LEAP has most of its laboratory automation robots under GSAcontract and is eager to service and maintain everything it sells to keep your expensive lab equipment running around the clock. CTC Analytics Combi PAL and HTS PAL for Front-End Automation for LC and GC applications. LEAP offers customized on-site training. LEAP Is continuing to develop FAQ, Solutions, Tips & Techniques,a Learning Center with the LEAP Wiki for the benefit of all PAL Platform Robotic users. We will continue exceeding customer expectations for quality, cost effective and efficient results using the most current technology and expertise in our industry. Our aim is to be the ultimate knowledge base on everything related to the PAL. LEAP is known as the autosamplerguys being in business over twenty years. LEAP has extensive multi-vendor experience with integrating the PAL. HTX, HTS, HTC, HTX-xt, HTS-xt, HTC-xt, LC-Mini, Combi PAL,COMBI-xt PAL, and GC PAL models. We have the Quality, Training, Parts availability, Infrastructure, and Experience.LEAP is sometimes referred to as an Application Automation House who is continually adding new products and solutions to its Lab Automation line. As we do so we change the content of this web site so please check back.
Please contact LEAP Technologies on how we can help you get maximized throughput with flexible pipetting automation solutions whether it is our standard applications or customized to your needs. The Combi-xt PAL autosampler is able to perform liquid and headspace analysis. Headspace options include Solid Phase Micro-extraction (SPME) and ITEX-2 as alternative to purge and trap. The HTS-xt PAL autosampler dramatically increases sample throughput by offering automated sample prep, Peltier cooled and heated sample storage using the cooled stack, Peltier cooled and heated sample storage using the cooled stack and low carryover due to the self-cleaning DLW (Dynamic Load and Wash) module and L-Mark syringes. LEAP provides automation that fits your needs and reduces errors, increases sample capacity, increases efficiency, reduces cost by supplying long term productivity improvements with user friendly software and flexible hardware. LEAP offers full support of integrated and non-integrated PAL software with both sales and support for Cruise Control, Cycle Composer and Cycle Composer Macro Editor, Agilent ChemStation CTC Control, Mass Hunter and EZChrom CTC integration, Xcalibur, Waters Masslynx or Analyst CTC Control software, Thermo (Finnegan) XCalibur, LEAP Shell, and Chronos software. The PAL is more than just an autosampler, it is a high-quality and efficient laboratory robot platform that can be customized by LEAP Technologies to meet your specific needs.

The information and references contained in this web site are believed to be accurate and the most current information available.
Subcategories
This category has the following 13 subcategories, out of 13 total.
Pages in category "Consumables"
The following 3 pages are in this category, out of 3 total.
F
S
T